Poof
Gender:
Male
Species:
Fairy
Age:
Immortal
Hair color:

     

Purple
Eye color:

     

Purple
Production Information
First Appearance:
 
Grow Up, Timmy Turner!
Voiced by:
Tara Strong

Randy Jackson (first words)
Poof Cosma is the fairy baby son of Cosmo and Wanda, who was wished for by Timmy Turner thirteen years ago. Despite the passage of time, Poof still seems to be a baby.
Background
Edit
External links
Edit
Poof at the Fairly Odd Parents Wiki
Poof at the Fairly OddFanon Wiki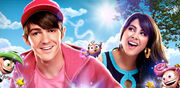 This article is under construction.

This article is currently in the middle of an expansion or major revamping. You can help the FOP Wiki by contributing to it.
&nbsp
Ad blocker interference detected!
Wikia is a free-to-use site that makes money from advertising. We have a modified experience for viewers using ad blockers

Wikia is not accessible if you've made further modifications. Remove the custom ad blocker rule(s) and the page will load as expected.