Steven Robert Weber (born March 4, 1961) is an American actor. He is best known for his role in the television show Wings which aired throughout the 1990s on NBC.
A Fairly Odd Movie
Edit
In A Fairly Odd Movie: Grow Up, Timmy Turner!, Weber play Hugh J. Magnate Jr,a larger-than-life oil tycoon with daddy issues. Hugh come to Dimmsdale to build an oil rig hotel.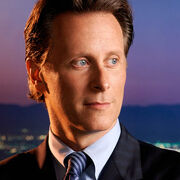 Ad blocker interference detected!
Wikia is a free-to-use site that makes money from advertising. We have a modified experience for viewers using ad blockers

Wikia is not accessible if you've made further modifications. Remove the custom ad blocker rule(s) and the page will load as expected.