Susanne Blakeslee
(born January 27, 1956) is an American voice actress who is also credited as
Susan Blakeslee
and
Suzanne Blakeslee
. She is the voice of Wanda in the animated series
The FairlyOddparents
and
A Fairly Odd Movie: Grow Up Timmy Turner!
Susanne is also best known for currently providing the powerful voices of the Disney Villians, Lady Tremaine, Maleificent and Madame Leota, replacing their original late voice actress, Eleanor Audley.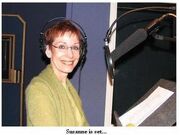 Ad blocker interference detected!
Wikia is a free-to-use site that makes money from advertising. We have a modified experience for viewers using ad blockers

Wikia is not accessible if you've made further modifications. Remove the custom ad blocker rule(s) and the page will load as expected.