Vicky
Gender:
Female
Species:
Human
Age:
29
Hair color:

     

Red
Eye color:

     

Pink
Vicky is the mean former babysitter of Timmy Turner. She is played by Devon Weigel.
Official description
Edit
Vicky is Timmy's mean former babysitter. She may have enjoyed making life tough for Timmy, but thanks to his fairy godparents, it was Timmy who got the last laugh. Unfortunately for Dimmsdale, she is still molding young minds at a local daycare.
Information
Edit
Vicky is still as mean as ever, but is no longer a babysitter. She runs a day care center in Dimmsdale, which she runs like a prison, making the tots in her day care wear orange jumpsuits and feeding the kids expired squirtable cheese. Like Timmy's generation in the past, none of the kids seem to like her.
Jorgen Von Strangle accidentally hits Vicky with a love arrow, making her fall in love with the first person she sees, that person being Jorgen himself. She is last seen still pursuing Jorgen. It is unknown what happens to Vicky afterward, but it is likely that the Love Arrow eventually wore off and she resumed running her day care center.
When Vicky showed up for the second time, she opened a pizza box while standing instead of opening it on a table.
Vicky's scenes are removed entirely in the rebroadcast of the movie. This even includes a modification to the ending scene with Jorgen, where the kiss marks that Vicky gave him are removed from his face.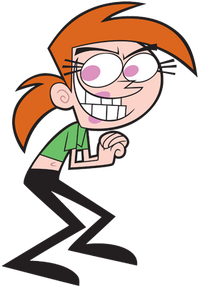 External links
Edit